People Business Partner (HR Business Partner)
Charlotte, NC (

Coming soon

) | Human Resources
Position Summary:
At GoHealth Urgent Care, we place the needs of our patients first - by providing an effortless patient experience, a welcoming culture of care and seamless integration with market-leading health systems and our communities.
The People Business Partner functions as a fully integrated member of a department's business operation by providing comprehensive human resource consultation and support services with the express purpose of maximizing the effectiveness of business and People processes that promote organizational objectives.
This position is based in our Charlotte market. Travel to Winston-Salem or vice versa.
Job Requirements
Education
Bachelor's Degree Required
Degree in Human Resource Management, Business Administration or related field
Master's Degree preferred
Work Experience
Minimum of three years of Human Resources, specifically in employee relations or strategic business partnership work required
Proven experience in managing employee relations and conflict resolution/investigations of disciplinary issues required
Health care experience. Experience in managing and implementing projects and strategic change initiatives preferred
Required Licenses/Certifications
PHR, SPHR, or sHRBP preferred
Additional Knowledge, Skills and Abilities Required
Core Competencies:
Collaboration: Takes ownership for collectively establishing productive partnerships and relationships and seek to gain a joint understanding of priorities and objectives so that the greater good of the organization and those we serve is always at the forefront.
Innovation: Consistently uses good judgment, applying creativity to overcome obstacles and increasing effectiveness and efficiency through process and other forms of innovation.
Diversity and Inclusion: Fosters diversity and inclusion, to be able to better understand team members, our customers and partners. Engages the strengths and talents of each GoHealth team member, creating an environment of involvement, respect and connection where the richness of ideas, backgrounds and perspectives are harnessed.
Integrity: Models and practices the highest ethical and professional standards; demonstrates pride and personal interest in our patients, partners and fellow team members, deeply engaging in the business. Makes decisions, with a focus on doing the right thing; treats team members, our customers, partners and vendors with dignity, consideration, open-mindedness and respect.
Accountability: Always shows initiative, demonstrates a bias to action and gets things done. Actively accepts responsibility for diverse roles, obligations and actions that positively influence patient and customer outcomes, our partnerships and the healthcare needs of our communities.
Functional Competencies:
REFRAMING – Demonstrates ability to probe for additional information and reframe requests for solutions.
CLIENT ENGAGEMENT/CHANGE MANAGEMENT – Understands the impact of change on people, processes, procedures, leadership and organizational culture; knowledge of change management principles, strategies and techniques required for effectively planning, implementing, and evaluating change in the organization.
DECISION MAKING – Makes sound, well-informed, and objective decisions; perceives the impact and implications of decisions; commits to action, even in uncertain situations, to accomplish organizational goals; cause change.
FLEXIBILITY - Open to change and new information; adapts behavior or work methods in response to new information, changing conditions, or unexpected obstacles; effectively deals with ambiguity.
INTERPERSONAL – Develops and maintains excellent working relationships within HR and other business departments.
BUILDING RAPPORT -Exercises skill and diplomacy to establish HR as a trusted, credible business partner; creates buy-in with customers.
ORAL COMMUNICATION - Expresses information (ideas or facts) to individuals or groups effectively, taking into account the audience and nature of the information (technical, sensitive, controversial, etc.); makes clear and convincing oral presentations; listens to others, attends to nonverbal cues, and responds appropriately.
PROBLEM-SOLVING – Identifies problems; determines accuracy and relevance of information; uses sound judgment to generate and evaluate alternatives, and to make recommendations.

SELF-MANAGEMENT – Sets well-defined and realistic personal goals; displays a high level of initiative, effort, and commitment towards completing assignments in a timely manner; works with minimal supervision; is motivated to achieve; demonstrates responsible behavior.
TECHNICAL COMPETENCE – Uses or gains knowledge that is necessary to perform the major functions that are described above (i.e., familiar with state/local laws that govern employment and can translate those into providing advice.)
WRITING – Recognizes and uses correct English grammar, punctuation, and spelling; communicates information in a succinct and organized manner; produces written information that is appropriate for the intended audience.
CUSTOMER SERVICE – Demonstrates a results-oriented focus for delivering appropriate services in an accurate, complete, and timely fashion.
TEAMWORK/COLLABORATION – Demonstrates skills and abilities in collaborative efforts with experience in team/project oriented activities.
DIVERSITY – Strong understanding and appreciation of a diverse work environment and have demonstrated initiatives for recruiting for diversity.
RELATIONSHIP MANAGEMENT – Maintains good communication and a positive relationship with employees at all levels of the organization to promote employee satisfaction. Projects excellent customer relations in all interactions.
Additional Knowledge, Skills, and Abilities Preferred
Excel, Word and PowerPoint experience required
Knowledge of HRIS systems
Essential Functions
Strategic Partnerships: Uses performance consulting strategies to work with customers as a consultative partner to accomplish and optimize workplace performance in support of business goals. Researches and establishes productive relationships and rapport with customers to gain joint understanding of business goals, strengths, and opportunities by meeting on a regular basis and providing timely follow up on issues/concerns. Works collaboratively with leaders as an internal consultant to improve and maximize the performance of center or department operations within the scope of Human Resources. Provides guidance to leaders in areas of performance management and conflict resolution. Provides leaders with appropriate guidance on handling issues, providing rationale for recommendations so that leaders can make informed decisions. Consults with human resource areas of expertise to assist the People department and leaders to make decisions to move problems/issues to resolution. Attends assigned leadership teams.

Market Support: Supports and assists with implementation of Human Resources initiatives to enhance successful roll-out and acceptance throughout the company. Alerts People Business Partner/ER Manager and Director, Talent and Learning to high-risk situations that may have an impact on the organization. Works with company-wide HR initiatives to assure the successful roll-out and acceptance of People initiatives, policies, and programs throughout the organization. Analyzes and makes process improvement recommendations when People practices or processes create roadblocks.

Staffing: Collaborates with leaders and Talent Acquisition to ensure an effective screening/interviewing/selection process to match candidates' talents to appropriate jobs to meet the goals of the unit/department. Works with leaders to assist them in understanding the recruitment process from position creation to job posting to employee onboarding. Works with leaders to assist them in understanding the termination and/or resignation policies and processes. Collaborate with the leader to make the right match for lead positions. After TA screen as needed, review final group of candidates and work with the hiring manager to facilitate the recruitment process per standard operating procedures. Reviews and discusses turnover and productivity reports with leaders to support department's staffing goals. Collects/Tracks/Trends/Advises on employee turnover and retention issues to assist leaders in developing proactive approaches to maintain appropriate staffing levels based on productivity. Reviews reduction in workforce rationale and documentation required for approval and guides leader in the process. Ensures appropriate documents are prepared and facilitates meetings between manager and affected employee(s).

Work Climate and Employee Relations: Collaborates with People Business Partner/ER Manager to provide leaders with appropriate advice on handling employee relation issues and provides rationale for recommendations so leaders can make informed decisions and help facilitate moving issues/concerns to resolution (e.g., discipline steps/documentation, terminations, mediation, Equal Employment Opportunity Commission (EEOC) issues, etc.). Documents employee relations cases according to the standard operating procedure. Represents the company in ESC (Employment Security Commission) Hearings to provide data to explain company policies and decisions. Completes and sends documents requested by ESC. Sends relevant company documents to ESC hearing officer. Alerts Employee Relations Manager and Human Resources Director to high-risk situations in the organization. Works with leaders to create a culture of diversity where differences are welcomed, encouraged, and respected.

Training, Coaching and Counseling: Assesses the People learning needs of leaders and provides instruction, remediation and guidance to achieve business objectives in a manner that provides value and customer satisfaction. Supports talent and succession planning initiatives in assigned market(s) to help grow and develop talent to achieve business results.

Regulatory Compliance: Monitors internal and external changes in law, policies, and practices to define and confront risk to employees and the organization. Participates in survey activities for an understanding of requirements related to Human Resources to include the Urgent Care Association of America (UCAOA), State Agencies and department specific agencies (such as ARRT, AAMA, etc). Works with leaders to assist them in knowing/understanding components of HR standards so they can remain compliant (i.e., timely Performance Evaluations, mandatory education, certification requirements, etc.). Recommends improvements to policies or practices that serve the best interest of employees and the organization. Participates in department file audits related to regulatory requirements. Partners with Compliance to help facilitate Compliance Hot-Line review by working closely with leaders on investigating and responding to compliance reports. Consults with Employee Relations Manager as needed.

Employee Engagement: Advises leaders in assessing, employee engagement, employee satisfaction, and developing action plans to increase positive outcomes. Helps identify barriers, gaps, and problem solves solutions to achieve leaders' goals for increased employee engagement. Provides leaders with tools and strategies necessary to improve/maintain employee engagement and increase employee satisfaction and retention. Works with leaders to assess employee onboarding experiences and develop a plan to meet identified gaps. Conducts Focus Interviews, in conjunction with People Business Partner/ER Manager when needed, to gather data regarding employee perceptions and opportunities for improvement in employee engagement.

Information Management: Collects, tracks, trends, and communicates/advises leaders on employee turnover and retention data, exit interview data, disciplinary action data, complaints data, recruitment and hiring data, etc., according to standard operating procedures and assists in developing proactive measures to mitigate risk to the organization. Monitors leaders' use of the performance management process; reviews both the process and documentation used to evaluate and enhance job performance and to correct unacceptable workplace behaviors. Collaborates with People Business Partner/Employee Relations Manager and other People Partners, as appropriate, to address trends or changes in law, policies, and practices.
All other duties as assigned.
Note: this job description is not inclusive of all the duties of the position. You may be asked by leaders to perform other duties. Management reserves the right to revise this position description at any time.
---
GoHealth provides equal employment opportunities (EEO) to all employees and applicants for employment without regard to race, color, religion, sex, national origin, age, disability or genetics. We invite military veterans to apply for our positions. In addition to federal law requirements, GoHealth complies with applicable state and local laws governing nondiscrimination in employment in every location in which the company has facilities. This policy applies to all terms and conditions of employment, including recruiting, hiring, placement, promotion, termination, layoff, recall, transfer, leaves of absence, compensation and training.

Keywords:
Job, healthcare, medical, clinical, career, employment, opening, staff, benefits, health care, recruitment, talent acquisition
---
Why

GoHealth?

GoHealth Urgent Care has outstanding career opportunities in Connecticut, Missouri, New York City, North Carolina, Northwest Arkansas, Oklahoma City, San Francisco and the Portland-Vancouver area. And all of these positions have one thing in common: flexibility to practice urgent care medicine the way it was meant to be, without the stress and bureaucracy of hierarchical organizations. With reasonable work hours that don't emotionally exhaust them or burn them out, our team can balance and prioritize their professional and personal lives.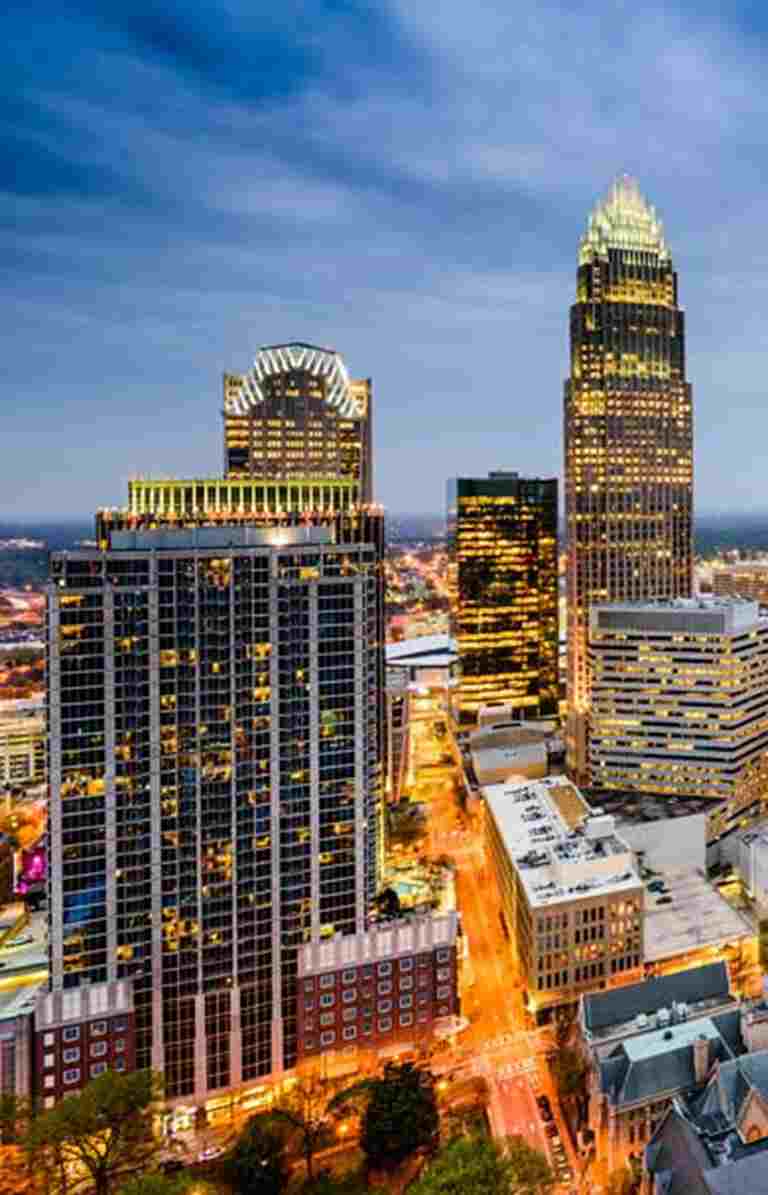 The lifestyle

you

can lead.

Winston-Salem and Charlotte are both among U.S. News & World Report's Top 50 Best Places to Live.

Winston-Salem is a region on the rise with a population of 654,589 and strong southern roots. It's friendly and diverse—retaining a small-town feel—and features fabulous restaurants, inviting neighborhoods and trendy apartments. For the adventurous, there are many local hiking trails, state parks, Pilot Mountain, Hanging Rock and Piedmont Quarry. Premier attractions include the Southeastern Center for Contemporary Art and the Reynolda House Museum of American Art.

Charlotte boasts the Blumenthal Performing Arts Center, The Mint Museum and the Levine Museum of the New South. And with a population approaching 2.4 million, Charlotte offers much to see and do—from local craft breweries, numerous parks and greenway trails to excellent shopping and dining, downtown theaters and nightlife to the PNC Music Pavilion. Catch an NFL Carolina Panthers football game, cheer on the NBA's Charlotte Hornets, or take in a Charlotte Knights baseball game. It's all here, served by excellent public transportation, Amtrak and Charlotte Douglas International Airport.